Neverland Love Story Takes Flight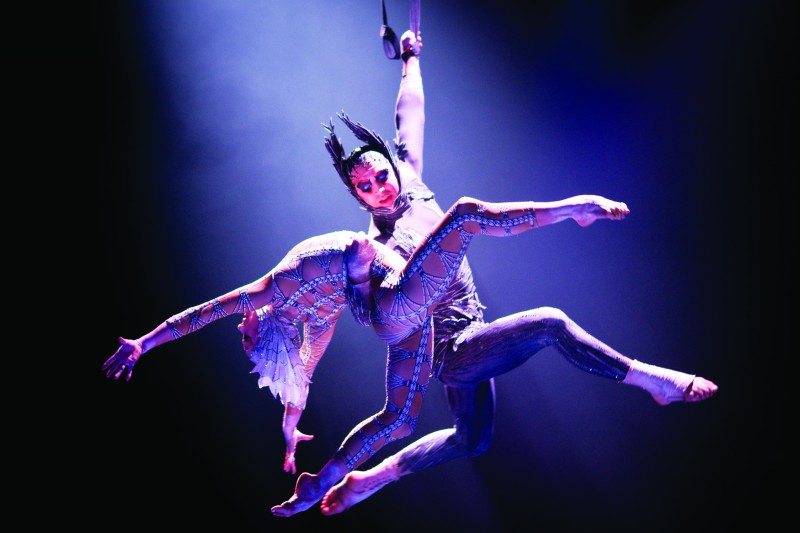 The first in a series profiling stars of the Cirque du Soleil's Michael Jackson show about to open in Auckland, Luba Kazantseva and Brandon Pereyda talk about their performance as swans in 'Michael Jackson: Immortal.' They perform to Michael's beautiful composition, 'I Can't Stop Loving You.'
On the story behind the performance:
Brandon Pereyda: "It's pretty much a love story, and it originates from when the Neverland ranch was recovered after Michael died, and there were two swans that were left – a black swan and a white swan, and they represent the idea of staying together, no matter what."
Luba Kazantseva: "The story inspired the designers and [show creator] Jamie King to create an aerial straps love story for that number. Basically, we're the swans, and I'm white, and he's black."
On what it's like to be part of this show:
Pereyda: "Other Cirque shows have very diverse casts with many different cultures, but it seems even more so with this show. It almost seems like there's a little bit of something from every country."
Kazantseva: "It feels like a good mix of a rock'n'roll world, and a circus world, collaborating together. It's a privilege to share the stage with them."
On being part of a Michael Jackson tribute:
Kazantseva: "Who isn't a Michael Jackson fan, to some degree? I can't say that I was a fanatic, but I think he's definitely a huge figure in the entertainment business, and it's absolutely an honour to perform to his music, and work with his musicians.
It's inspiring."
Pereyda: "I've always enjoyed his music, but I think I love it more now. Being able to intertwine what we do with his music, I never thought that would be possible. And then listening to the band, hearing the music played live is a completely different experience as well. The audience reactions to some of the songs, you get shivers because they're so into it."
On their preparation for the performance:
Kazantseva: "It's basically a lot of stretching. We do strength work during the day, but when we're warming up for the act, it's about getting as loose and flexible as possible for some of the tricks that we do, because the lines in the act are essential. So we're doing splits and bridges for a good hour."
On the challenges of this show:
Pereyda: "Each time we change arenas, we have to adjust. The load-in day is all about validating the motor, because with our act, the motor is programmed within the system to raise us up to a certain height at a certain speed, and each arena has a different set-up. And that affects the amount of room we have between ourselves and the floor, between each other, how fast or slow we need to fall to get to each mark, to get to a specific point when the music matches. Our timing from the take-off has to be very precise, and we really have to think about how the speed will be this time, as opposed to the previous arena."
Kazantseva: "It keeps us on our toes, though, and we like a little bit of risk. This is definitely not one of those performances that you can just float through without paying attention. You've got to be concentrating. Even now I still get nervous because there are certain tricks, like one bit where Luba's just hanging off my foot, one foot. You can't get it wrong."
The stars
Who: Luba Kazantseva and Brandon Pereyda
From: Kazantseva is originally from Moscow and Pereyda hails from Las Vegas.
Previously seen performing in: Cirque du Soleil show Zumanity. Kazantseva's background is in ballet, while Pereyda's is in gymnastics.
Role in 'Michael Jackson – The Immortal': The pair perform an aerial straps routine to 'I Just Can't Stop Loving You.'
Event
What: Cirque du Soleil Michael Jackson – The Immortal World Tour
Where: Vector Arena
When: Nightly from Wednesday October 30 to Saturday November 2
By Lydia Jenkin
Source: The New Zealand Herald & MJWN
Leave a comment