Michael Bush Book Signing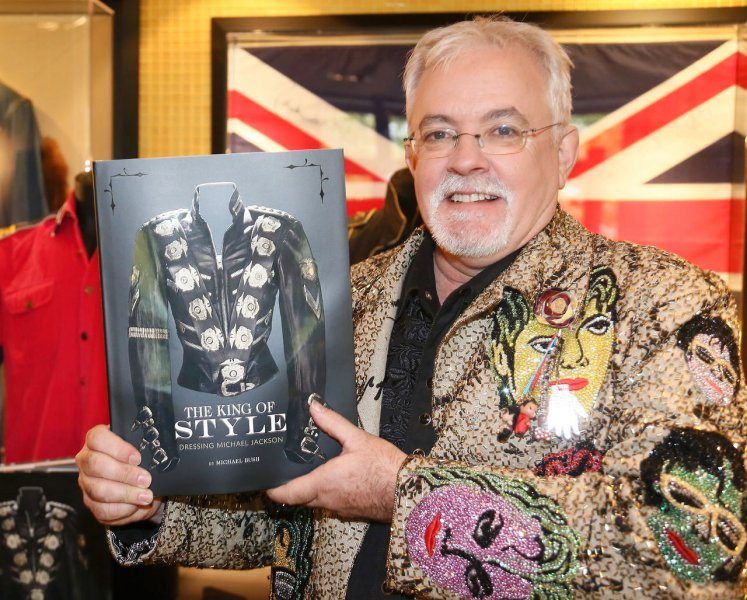 When it came to giving Michael that perfect shimmer and shine, Michael Bush was the man.
Starting Thursday, Sept. 12 through Sept. 19, Bush, the long-time costume designer and personal friend of the King of Pop, Michael Jackson, will be making a book tour through the region.
Plus he will be getting some big-time hometown love, as Bush, a Portsmouth, Ohio native, will be getting a Walk of Fame Star at 10 a.m. Saturday, Sept. 14, joining celebrities like Roy Rogers, American operatic soprano Kathleen Battle, former Major League Baseball's Al Oliver and Country music singer/songwriter Earl Thomas Conley, in being celebrated at the downtown Walk of Fame attraction.
Bush, the author of  'The King of Style: Dressing Michael Jackson,' will appear at the Shawnee State University Barnes & Noble for an exclusive appearance and book signing event at 1 p.m. Saturday.
Other area appearances include a 1 p.m. Sunday, Sept. 15 appearance at Books-A-Million at the Huntington Mall.
Fans purchasing the book will have the unique opportunity to also have Bush personally autograph their book.  'The King of Style: Dressing Michael Jackson,' is the first art-driven book about the costumes, apparel, shoes and accessories created and worn by Michael Jackson includes hundreds of lavish photographs and a behind-the-scenes-look into the process of collaborating with the world's most legendary and powerful entertainer of our time. The book includes personal stories from the author, never before seen photographs and a fascinating look into the world of fashion that only Michael could have created.
It has gone on to sell over 30,000 copies to date and has been awarded the Independent Publishers 2013 Gold Medal Award and the 2013 Gold Medal from PubWest for best Design for a Specialty/Holiday book.
For 25 years, Los Angeles-based costume designer Michael Bush, along with his partner Dennis Tompkins, created Michael's personal and concert tour wardrobes which equated to tens of thousands of original pieces.
Traveling the world with the music icon afforded Bush unprecedented opportunities into Michael's private and professional life. Tompkins met Michael on the set of 'Captain EO' and it was shortly thereafter that Bush joined the production.
After the production wrapped the pair began making costumes for Michael to wear in his music videos.  Their unconventional career provided them the unique opportunity to work creatively with one of the world's greatest entertainers and through the medium of clothing helped him express his artistic style and music which in turn created a cultural icon loved worldwide.
The pair also worked with Britney Spears, Denzel Washington and Elizabeth Taylor but it was the decade long relationship with Michael that provided the inspiration and opportunities which influenced the fashion world forever.
"Michael Jackson was the world's greatest entertainer. His fashion sense and ideas of design took me on an extraordinary journey for almost 25 years. There was nothing we couldn't do and Michael was full of surprises. We traveled the world together and created designs and fashions that have become iconic. I always say I educated Michael and he educated me through the process," said author and designer Michael Bush. "Michael loved military style, Egyptian styles and the image of royalty as you can see in many of his most famous costumes and personal outfits. When we designed, we designed for show time, no matter what the occasion. When Michael was alive he always talked about us doing a book like this. My hope is that by producing 'King of Style: Dressing Michael Jackson,' fans and fashion enthusiasts around the world can now share in the excitement and surprises I was able to live every day working with the King of Pop, Michael Jackson."
Celebrities and fashion luminaries provided endorsements including famous London milliner Phillip Treacy and Grammy award winning artist Celine Dion.
Source: herald-dispath.com & MJWN
Leave a comment