Man Who Vouched For Murray Testifies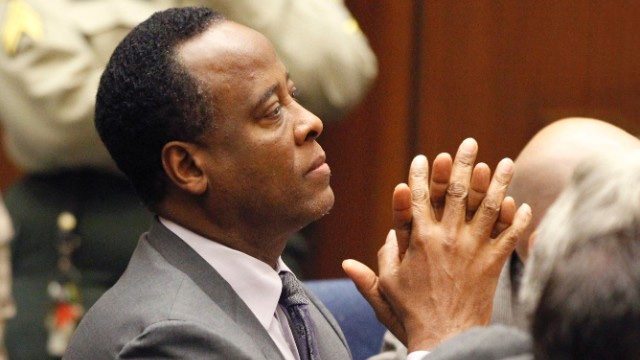 Yesterday was a day of video testimony. Jurors saw three video depositions in total and AEG called their next witness, Jeffrey Adams, via video.
Adams testified that he travelled with Conrad Murray everywhere. "I wasn't paid as his security, but I was his security," he said. "It was just understood that I'd be. There was no contract or anything of that nature or a job. I started with Dr Murray the day after Michael Jackson passed," Adams explained. "At a point, didn't you work for MJ?" He was asked.
"I didn't officially work for MJ, I orchestrated his staff. I didn't actually officially work for him."
Adams had his own security company called 'Knockout Security,' and he said he met Murray in early 90's through mutual friend.
"The day after MJ passed I called Dr Murray. He was in California and I asked him was it true what I was hearing. He said "yes." And I asked him if he was okay and needed me, and he said "yes." And at that time my father told me to go to him."
"I told him he had taken care of my father for me and that I'd be by his side in this situation until it was completed," Adams recalled. "We went to eat together, we went to movies together, we went to criminal proceedings, meetings lawyers, we took walks together."
"I made statements, you know, but he never discussed with me how Michael passed," Adams recalled. "He never clarified anything with me. We lived together, we had an apartment together, we did everything together."
Adams orchestrated security for Michael in December of 2006. He said his friend, Basheier Muhammad, who was Michael's security, called him offering work. He said he was positive that was the first time the two met. "Mr. Muhammad called me one evening in 2007, I want to say maybe February. He did periodic work for MJ. I introduced Dr Murray to Michael Jackson," Adams said. "It was in early 2007, as he recalled. He said that MJ's children were sick and needed to go to the hospital and that MJ didn't want to take them to public hospital."
Adams explained Michael didn't want to take them to public hospital as they didn't have anything to cover their faces. "And I told him I could reach out to my doctor, Dr Murray, and see of he would be willing to come over and take a look at them."
Adams said Michael wanted a resume of Murray and asked if he could be trusted. "I said he's been my doctor, he's my friend. He definitely can be trusted."
"I told Murray I needed a huge favour from him, had a high profile client, couldn't give name but once he got there he'd know who was."
Adams asked Muhammad the next day if Murray showed up. He said "yes," but never discussed anything further apart from; "Michael thanking me for bringing him over to see the children, that was the only conversation we had."
Adams recalled Michael saying; "I want to thank you very much, he was a very professional doctor, and I appreciate it."
Adams also added that he wasn't going to ask for a resume because Murray was doing a favour.
AEG played the next video. This was testimony from Dr Stephen Gordon, a plastic surgeon from Las Vegas.
Gordon said his records are electronically saved and he'd located the "Michael Jefferson" file. He said Michael chose to use this name to protect his privacy.
Dr Gordon saw Michael professionally three times and spoke on phone maybe twice.
He met Michael after receiving a call directly from him, seeking an appointment. He said he initially thought it was someone messing with him, but Michael gave him a call-back number and he was convinced. It was a very pleasant sort of flattering experience," Gordon said.
The doctor said Michael told him he really wanted to see him and he went to his office on October 2nd, 2002 for the first procedure, which was done after hours. Michael had some collagen injections in his face, some near his nose and he got Botox on at least one of his lower eyelids. Gordon said having a patient use anaesthesia for those types of procedures wasn't typical. "He expressed a significant needle phobia," Gordon said.
Michael returned two days later, but the doctor didn't have any notes of what was done. The anaesthesiologist had notes that a forty-five minute procedure was done, but the doctor doesn't remember what happened.
Gordon said it's possible the procedure was a touch-up from the previous one, or the anaesthesiology chart was for another patient. "I knew I'd have a little trouble explaining this to you," Gordon told AEG Live defense lawyer Marvin Putnam on the video.
While Gordon's records were unclear, the attorneys agreed to read a note to the jury that a procedure did happen on October 2nd, 2002. Gordon testified that he had trouble getting paid for the October procedures. He described Michael as a "phantom" and difficult to reach.
The doctor also said Michael appeared more familiar with anaesthesia than other patients, and referred to Propofol as "milk." Most people really don't relate to it like that," Gordon said, but noted he just overheard the conversation with the anaesthesiologist.
In July 2003, Michael returned for another procedure. This time he asked Gordon to cut a "foreign body" out of his abdomen. Gordon removed scar tissue, but said he didn't find anything inorganic. Dr Gordon added that when Michael was leaving, he asked for a shot of Demerol "for the road." Gordon said he was surprised by the request. H said he wasn't going to give it to Michael, but asked him how much he wanted. "300mg" Michael replied.
He saw Michael again four weeks later when he came to the office with Conrad Murray. Murray presented himself as Michael's doctor and "spokesperson to some extent," Gordon said.
Gordon said he found the visit odd. He said Michael acted like he hadn't been there before, and he had never had a patient bring their own doctor to a visit. Murray had driven Michael and sat through the procedure which was a cosmetic injection without Propofol.
Dr David Adams deposition was played next for the jury. He testified he had given Michael Propofol four times during procedures.
Adams' interactions with Michael came during dental procedures and were also done in Las Vegas. He didn't charge Michael for his services, but told him he wanted him to refer other patients to him.
The first time met Michael he said he noticed he had a large tongue. He was worried that it could be a problem and it was, as it blocked his airway during each of the four procedures Dr Adams did. He said though he was able to quickly remedy it by moving Michael's chin which would open up his airway and restore his breathing.
Adams recounted meeting Murray. He had called him on a Sunday afternoon in March and asked him to come to his office. Michael accompanied Murray to meet with Adams. Adams said that although the weather was extremely hot, Michael was wearing a suit coat and scarf.
Adams explained that he was getting ready for church when Murray called, and he went to the cardiologist's office thinking Michael needed medical care. Instead, Adams said Michael talked to him for about ninety minutes about his life, his practice, and other topics.
Murray had left the room. Adams said he was anxious to find out what was going on, but Michael and Murray conferred in another room and when finally Adams said he had to leave, they asked him to hold on. Michael and Murray came back into the room after a few more minutes and Murray looked upset by that point. Michael asked Adams to accompany him on the 'This Is It' tour, which took Dr Adams said took him by surprise and couldn't understand why he would be needed.
Adams explains that neither Michael nor Murray ever mentioned Propofol and Michael said he would only tell him he wanted him to help him rest. Michael also told Adams he didn't want an immediate answer. Eventually after various calls and texts Adams agreed to go on tour for $100,000 a month, and a three-year contract.
Testimony resumes next Tuesday.
Source: ABC7 Court News & MJWN
Leave a comment