Debbie Rowe's Testimony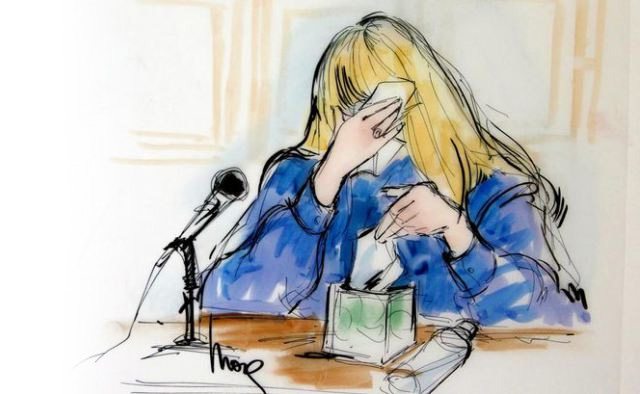 Michael's ex-wife Debbie Rowe gave evidence yesterday and spoke of the different occasions when Diprivan and Propofol were used whilst Michael was on tour.
Debbie said she was not familiar with the use of Propofol and Fentanye, but knew of Diprivan. She said that Michael was warned that any anaesthesia is dangerous and she explained that she had spoke to him about it asking; "What happens if you die?"
She said that he had so many procedures with Dr Hoefflin she didn't think he was worried and was more worried about his sleeping.
She continued to explain that whilst on tour the doctors had first done a physical examination on Michael and she was impressed and comfortable with his care at the hands of these doctors.
Debbie said; "I think we were going to address the (sleep) issue after (the tour)." She knew Michael had a sleep disorder, but could not remember; "why it had kicked into high gear like it had."
She explained that Michael was going to go to a sleep facility with Dr Metzger. With the doctors in Germany he had woken up and had not been as sound asleep as he was with Dr Hoefflin. He woke up within an hour of the drip stopping.
With Dr Hoefflin, she also explained, that Michael was in the recovery room with oxygen for five to six hours. When he went to Dr Klein's office to sleep, no Diprivan was used. "He just slept. That was the only place that had happened that I had seen Michael have naesthesia,
at Dr Hoefflins," she said.
Putman asked about Michael being given Diprivan on tour; "After the second time in the hotel room were you concerned he was going to do it again?" "It wasn't going to happen again…It just wasn't going to happen again! You don't give Diprivan to sleep! It's not appropriate. It's not a labelled use! He never did it again when I was around. It would not
have happened."
Putnam then asked; "Did security or a nanny see him being put under?' "NO! I am not going to let anyone in when he's sleeping. That's rude!" She said. She also said that she had taken notes for Dr Metzger's charts.
Debbie explained that she had gone to Europe to see Prince and; "We were making Paris," she said.
She explained too that after they had decided to separate, Michael retained the doctors."It was more important to me that he had Dr Metzger, because Metzger cared about him as a human being, wanted the best for him, talked to him for hours. He respected Dr Metzger very much."
"We were married. When I no longer worked for Dr Klein, I felt I had a completely different role in his life. I couldn't go into Klein's office to look at his chart, it's illegal! I felt if he wanted me there. He'd talk to me about it. He needed someone to be there for him,
not to look at him as a cashcow. I wasn't sure how Michael would be when he woke up.
We stayed in different areas of the hotel as the fans would keep the baby awake."
She said that she also told Grace, the nanny, that if Michael didn't look okay, not to leave him alone with the baby.
With regards to Dr Klein Debbie said; "At one time he was a brilliant physician, it was very sad what happened to him. "
Paris was four years old the last time Debbie saw Michael in 2003. Putnam asked her; "When it came our he died of and overdose of Propofol, how did you react?" "I actually called Dr Klein and said "What did you give him? You killed him!" I thought he was responsible in some way," she said. "I didn't know what Propofol was, I still don't know. I think it was at a deposition I was told it was the same as Diprivan." "Other than Germany, was there any other time he used Diprivan to sleep?" Putnam asked. "Not that I am aware of NO!" Debbie replied.
At This point Mr Putnam ended his direct examination and Deborah Chang, who represented Mrs Jackson, began her cross examination.
It was explained that on the day of Debbie's deposition the plaintiff's did not attend. Attorneys for AEG told Debbie they did not want to be there. Debbie then explained she had hung up the telephone on Mrs Jackson's assistant because she was asked to talk to Mrs Jackson's and because she did not want to testify on anyone's behalf. She admitted she was only in court at this point because she had been subpoenaed.
Chang then asked about her relationship with Prince and Paris.
Debbie said she has re-established her relationship with Paris over this year and that she has never spoken to the children about this lawsuit.
She was then asked about her friendship with Michael which, had lasted over twenty years. Debbie thought it was actually longer and said; "It was not like we ever hated each other."
Chang asked if it got complicated because of divorce lawyers and Debbie admitted that there were; "Divorce lawyers and personal assistants that were annoying."
When asked about Michael's association with Dr Klein. She said the first time Michael went to see Klein he was still in his twenties and had acne which was an embarrassment to him. She said he also had discoid lupus a skin disease which was not systemic lupus that happens all over the body. She also said the scarring he was treated for was the result of burns he suffered during the Pepsi commercial.
Chang wished to show a picture of a black male's hand with vitiligo. The Defence objected and after a side bar the judge closed the session until tomorrow where Debbie's testimony will continue.
Source: Associated Press, ABC7 & MJWN
Leave a comment