Attorney Kathy Jorrie Testifies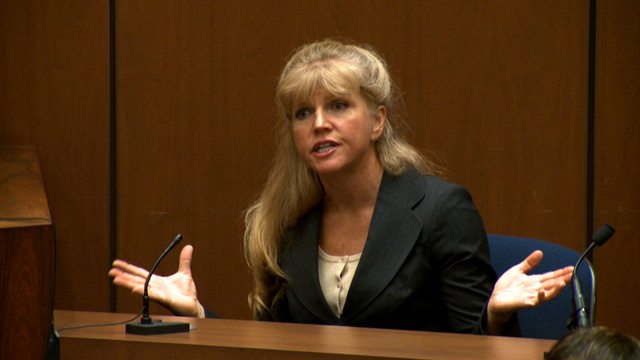 Yesterday in court, the attorney who drafted an agreement for Conrad Murray testified that she told a tour promotion executive that he appeared to be successful, just six days before Michael died.
Kathy Jorrie, who handled almost three hundred matters for AEG, is an independent attorney. She testified that she told AEG's CEO, Randy Phillips that Murray was properly licensed.
Jorrie also testified that Murray told her his medical clinics were earning more than $1 million a month.
These comments were made by Jorrie on the same day that Michael turned up at rehearsals shivering and within a short time Phillips was being sent emails from staff, expressing concerns regarding Michael's health.
Responding to their concerns, Phillips' emails Kenny Ortega saying Murray was "extremely successful" adding that AEG Live had checked him out.
There weren't any background checks made on Murray. Jorrie said that she reviewed records showing Murray's clinic in Nevada had a valid license and that he was licensed to practice medicine in four states. She also added that she did a Google search on his name.
Jorrie also said that she discussed with Murray a drafted agreement in which he would be paid $150,000 a month to accompany Michael to London for the 'This Is It' shows. She recalled that she questioned Murray about a request in the contract for CPR machines, but said she was satisfied with his reply, adding they needed lifesaving equipment nearby if there was an emergency.
Jorrie also told the court that by mistake, she left language in a contract that Murray signed, that requested he perform services "reasonably requested" by AEG. She said throughout her testimony that Murray was Michael's personal doctor and his agreement was needed on the contract, but he died before it could be signed.
Source: CTVNews & MJWN
Leave a comment