David Berman Questions Choice Of Doctor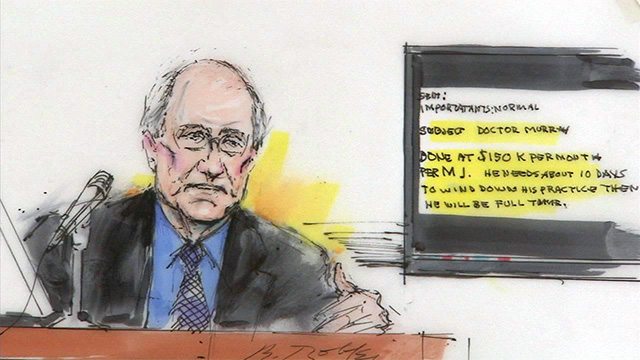 The promoter of Michael's 'This Is It' series of concerts said a conflict of interest was created with his physician, when the terms were negotiated for the doctor's deal.
David Berman told jurors that the company should not have negotiated Murray's contract, without notifying Michael's representatives of the discussion.
The former head of Capitol Records and high-level positions at several other record companies is being paid to testify for Katherine Jackson in her lawsuit against the concert company. Asked whether it was appropriate for AEG Live to attempt to hire a doctor on Michael's behalf, Berman responded; "I believe that it's highly inappropriate. It is highly unusual." He said a more appropriate relationship would have been for Michael to hire cardiologist Conrad Murray without any involvement from AEG Live.
Based on draft contracts and emails between company executives, Berman also said he believed AEG Live thought it controlled the physician and that he had never heard of a situation in which a tour promoter hired a doctor on behalf of an artist.
Berman began working in the music business in 1969 as a transactional attorney before making the leap to record executive. He believed that music companies owe a higher obligation to artists than to music buyers or concert goers and, in this instance he said AEG failed Michael Jackson.
He was shown emails in which a tour accountant traded emails with Murray without including any of the Michael's representatives.
To prepare for his testimony, Berman said he had reviewed numerous documents, including twenty-six depositions and testimony from AEG executives during the trial and he is being $500 an hour for his work on the case.
The company's lawyers have yet to question Berman but already have objected to his expertise. An AEG Live defense attorney has noted that Berman was never a tour producer or promoter, functions that AEG Live was serving as during preparations for Michael's 'This Is It' shows.
Superior Court Judge Yvette Palazuelos reminded jurors that they will ultimately decide whether AEG Live hired Murray.
Michael La Peruque, a former security worker for Michael told the jury Thursday that he was concerned that Michael would overdose on prescription medications in the early 2000s but didn't see signs of impairment in him later that decade. He said he occasionally went into Michael's hotel room to make sure he was breathing and would often find doctors to treat him when he travelled.
La Perruque retired from his job as a sheriff's deputy in 2001 to work as the head of Michael's security and frequently travelled with him until 2004.
La Perruque said Michael's children called 911 during a trip to Florida in 2001 or 2002 after their father collapsed in a hallway in a hotel suite at Walt Disney World. He said he found Michael unconscious, revived him before paramedics arrived and never saw any signs of drugs or alcohol that the singer may have taken. Paramedics checked Michael out and determined he didn't need further medical attention, La Perruque said.
He told jurors that his testimony, was only the second time he had told the story. The first came in a deposition with lawyers for AEG Live.
La Perruque stopped working for Michael in 2004, but returned to oversee his security in late 2007. He said he didn't see any signs that Michael was impaired during the few months he worked for him again. He also testified that he last saw Michael two weeks before his death and he looked fine, but he noticed that his former boss was thinner than usual.
La Perruque said he spoke to two of Michael's doctors about his concerns regarding prescription drug use, but added that he never spoke directly about it to Michael because he didn't want him to become defensive. "It was my concern that he may overdose," he said.
He added that said he knew Michael had severe back pain and difficulty sleeping.
Despite seeing Michael impaired, La Perruque said he never saw him take any drugs or saw any signs of medications lying around.
"Michael did try to get help," he said. "He fought very hard to be sober. He fought very hard not to be dependent on these prescription medications."
He continued by saying that Michael kept members of his family away because he knew they were trying to stage an intervention. He told jurors that Randy arrived at Neverland Ranch one day in a helicopter to speak with his brother about his medication usage. La Perruque said he turned him away.
He also said that Michael called him in the middle of the night between twenty and thirty times in the early 2000s and was often mumbling and incoherent. Half those times La Perruque said he went to his room to check on him and they would start talking.
"I think he was just lonely," La Perruque said. "He wanted somebody to talk to."
Source: CNN, Associated Press & MJWN
Leave a comment