Thursday, 18th July 2013
Dr Peter Formuzis Questioned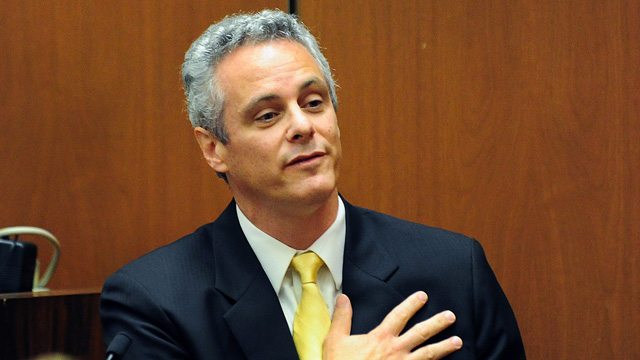 The wrongful death trial of Michael's last concert promoter is about to get a lot uglier, if defense lawyers live up to the promise of their opening statements. AEG Live lawyers this week brought up the child molestation charges against Michael and the 2002 incident in which the he "dangled" his infant son on a Berlin hotel balcony.
Plaintiffs called their next witness, Peter Formuzis and lawyer Brian Panish did direct examination.
Dr Formuzis is a former Cal State Fullerton professor who worked at the Federal Reserve in various capacities. He has a Ph.D in Economics. He described his extensive background and qualifications in the field
Dr Formuzis did not add to his calculations how much the loss of love, companionship to Michael's children and Katherine Jackson would cost.
Tier 1 range: $919,366,479 – $723,523,742 (7% to 18% discount rate)
Tier 2 range: $187,564,227 to $101,639,514 (7% to 18% discount rate) Total includes tour earnings, merchandising, endorsement, Las Vegas show, LV royalty, professional fees (at 15% rate), personal consumption.
Present value:
$108 ticket price
7% – 919,366,479
10% – 856,002,240 (Dr Formuzis chose)
15% – 768,026,177
18% – 723,523,742
The lower the discount rate, the more net money left. The lowest discount rate Formuzis used was 7%. He calculated 10%, 15% and 18% as well.
AEG had invested approximately $34 million, so they had confidence they would get that money back, Dr Formuzis said and he had used 7-10% discount rate. Panish said AEG has an expert calculating 18% discount rate.
For present value calculation, Dr Formuzis said you subtract interest and personal consumption to arrive at current figure. He is only assessing present value of economic loss, not non-economic, like love, companionship.
Dr Formuzis has been doing present value calculation for almost fifty years, about forty years of which in wrongful death cases. He did not give an opinion on what loss would be regarding movies and other things Erk didn't calculate.
"Some people have the power to make money, ability to make money, but are not doing so. Most individuals have capacity, or ability, to earn money," Dr Formuzis explained.
Dr Formuzis was asked to take the income projection created by Mr Erk and to take those projections and discount them to present value.
Panish asked if he knows anyone more qualified than him to testify in his field. He said "no."
Dr Formuzis has worked with Panish before. He testified for Panish between twenty-thirty times. He has been qualified as expert witness in at least one thousand cases and had cases in several states in the US. He has consulted for the Los Angeles commission, several private banks and attorneys involved in wrongful death cases for forty years.
The next witness was Doctor Brown who is board certified in anaesthesia. He belongs to several professional societies and publications in the field. Mr Koskoff led the questioning.
Koskoff talked about the police report where Dr Murray said he gave Michael Propofol every night for sixty nights up until June 21st, 2009. On June 22nd, he started to wean him off, Koskoff said. That seems to be more accurate description to what was in the report, Dr. Brown agreed.
Dr Brown doesn't know how much dopamine is released, but said he could check the numbers. The level of anaesthesia could last several days, Dr. Brown said, and that's currently under study. "The person may not be the same as they went in. In fact, you don't want the patient to be awake like before a painful surgery. You may have different levels of being awake. In order to maintain sedation, Propofol is given to induce and retain sedation, then decreased to bring the person back, Dr Brown said. "You can be there for several days," Dr Brown added regarding induced coma.
He then went on to say there's a difference between anesthetising someone into a coma and someone being in coma from head injury.
Cahan asked; "Have you been able to determine how much Propofol MJ was given in the months prior to his death?"
"I have no way of knowing what Dr Murray did every night when he treated Michael Jackson," Dr Brown replied.
Cahan then asked if Dr Brown believed Dr Murray gave Michael Propofol for sixty days prior to his death, according to the LAPD interview.
"I noticed some inconsistencies of what he (Murray) said we administer (Propofol) and what he said wasn't correct. The implication of anaesthetics as something that has implication on a patient's sleep if not under my purview," Dr Brown explained.
Dr Brown went onto to explain the typical anaesthetic has at least ten drugs. To try to ascribe the effects of Propofol would be exceedingly naive. He said he has not queried his patients about their sleep pattern after anaesthesia. "The effects of anaesthesia and sleep are not under my purview. One of the reasons I agreed to become part of this case was that I wanted to make it clear what the anaesthetic does to the brain," he said.
Dr Brown said he doesn't know what the source was for Dr Czeisler's sixty days figure. He also noted he's not a sleep expert. He said he'd read Dr Czeisler's trial testimony and in there the figure of sixty days, or two months, was mentioned. The doctor said Murray's statement was not consistent with the autopsy levels.
"I was under the understanding the night he (Michael) died was not the first night he used Propofol," Dr Brown testified.
He said there have been a number of sources for this information, such as the press and high levels of Propofol in his blood at time of death. Dr Brown added that his understanding is that Michael was using Propofol for many days, so he must've had some perceived benefit. "He was not having a restful sleep if he was using Propofol as a sedative for sleep," Dr Brown said. A "Good feeling" reaction is a well-known effect of the Propofol."
Only now studies have been able to determine the release of dopamine associated with Propofol. The study was done in rats, not humans.
Dr Brown said and the release of dopamine can cause what some people could interpret as refreshed, invigorated, some people say euphoria. Dr Brown added that he's trying to give a lay explanation of what the sensations are, so lay people can understand it.
Katherine Jackson will get to speak before her lawyers rest their case and the defense begins calling witnesses on Monday. Mrs Jackson is expected to testify about Michael's close relationship to his three children, who also are plaintiffs in the lawsuit, and about his plans for his later years of life.
AEG Live showed jurors a video clip of Katherine Jackson's deposition, in which she said Michael would joke that he "didn't want to be moonwalking on stage at 50." A Jackson lawyer said it was something Michael had said when he was much younger and fifty seemed old.
With the Jackson family said of this case ending, which Putnam called "ridiculous! Now we're going to start to show what actually occurred here," he said.
Jurors, who were told when the trial started in April that it could end sometime in August, appeared unfazed when Los Angeles County Superior Court Judge Yvette Palazuelos told them this week that it is likely to extend into mid-September.
Putnam estimated this week that he needs about thirty days in court to present his defense after the plaintiffs rest.
Katherine is expected to talk about Michael from early age until stardom and up to his death. We're told it will be a very emotional testimony.
Panish told the judge Mrs Jackson will need to take a few breaks throughout the day and gets tired in the afternoon.
The Judge adjourned the  trial until tomorrow morning at 9.30a.m. (PT).
Source: ABC7 & Associated Press
Leave a comment