Erk's Testimony Continues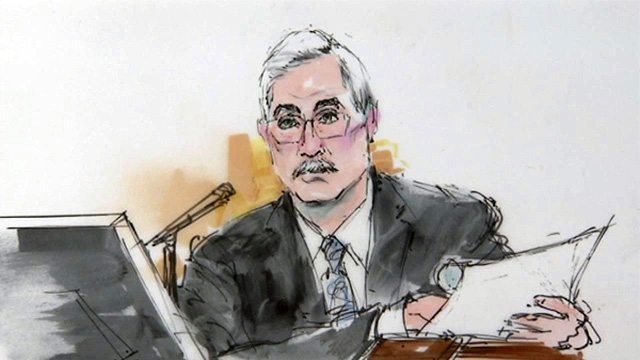 Arthur Erk's testimony continues today in the AEG trial. He is being questioned by Brian Panish regarding the amount of shows Michael could have done.
Panish asked if selling out in a matter of hours is going well. Erk responded "Yes and then some."
"What did he tell his children/" Panish asked.
"We're going on a worldwide tour. He took his children wherever we went."
An email from Phillips to Leiweke was then discussed and Strong said Gongaware's projection was nowhere near what Erk calculated.
With regards to India, Gongaware had projected three shows plus one private show. He also contemplated eight shows in Japan plus one private. Erk was asked if the email was written without knowing whether Michael would ever agree to it. He replied "yes."
Strong talked about the September 2008 email with $132 million projection. As of June 2009, Strong asked if Erk saw any evidence or sponsorship in place before Michael's death. Erk said he hadn't and added that he had no knowledge of what AEG had tried to do to get sponsorship opportunities for the tour. Strong asked; "Randy Phillips acknowledged that all had to go well, didn't he?" Erk replied; "It appears that way."
The email mentions twelve to fourteen new songs and then the release of series on new singles. Erk said he didn't know that Michael finished them.
Strong then pointed to the email showing there was an indication for "a" date in India, not sixty dates in India like Erk projected adding, "And the merchandise projection AEG had was between $8 and $10 million, right?" Erk agreed.
Erk later said Phillips was striking deal with Bravado to rent empty store in Oxford Circle to offer nothing but Michael merchandising.
Panish then asked Erk if he reviewed this email to determine if the tour in India wasn't just a hope, but plan. He said "yes."
The email was discussed further and a projection of $3 – $10 million for private shows was mentioned. More tours were mentioned in South America, America, starting in Florida, going onto Texas, New Orleans, California, Denver, Utah, Chicago. The world tour was said to include: Berlin, Hamburg, Munich, Paris, Zurich, Milan, Johannesburg, Dubai, Japan, India, Australia and New Zealand.
The email continued; "It's a big number, but this is not a number MJ will want to hear. He thinks he's so much bigger than that. On paper, it starts Jan 9 and runs thru April 2011…Right now we project 186 shows…Net to Mikey, $132 million."
Panish asked if Michael and Ortega had plans to work further together. Erk said Michael wanted to ultimately produce movies and that Ortega discussed going to India and Japan with Michael.
AEG spent money before even getting to London, Erk testified.
Erk said he based his opinion on AEG's projection and "if it was good enough for them, it was good enough for me."
Paris' deposition was played and she was asked; "How long did Michael Jackson plan to work?" Paris yawns and then offers two opinions in a video deposition shown to the jury by the defense.
"He still had a lot of music that he was still working on but he kind of needed to relax," she said.
"So did your dad ever tell you he wasn't going to tour anymore after the 02?" Paris was asked.
"Yeah," she replied.
Later she was asked; "How did you understand it was a world tour?" "Because he told us," she replied.
"What did he tell you?"
"That we were going around the world on tour," she said.
Source: ABC7 & Associated Press
Leave a comment