Michael Honoured By Philip Treacy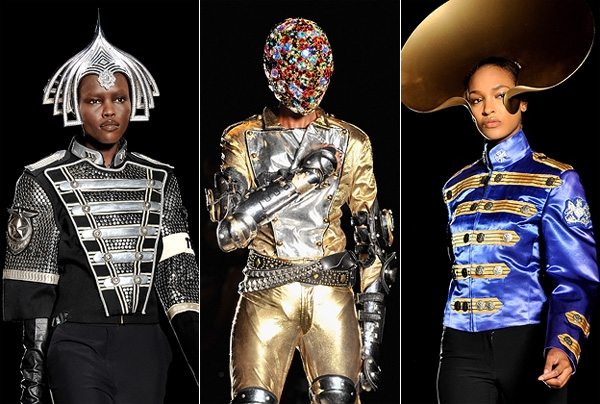 Philip Treacy, the Mad Hatter of British style, made a huge splash at London Fashion Week with a Michael Jackson-themed show that even featured Lady Gaga on its catwalk.
The headwear designer's Spring 2013 collection, which opened with a runway strut from Gaga, was dedicated to the mythology of 'Thriller.' A roster of black models, including the iconic Alek Wek, stomped down the runway in Treacy's absurdist fascinators and magically illuminated hats to strains of 'Billie Jean,' all while wearing Michael's most famous costumes.
In fact, Treacy borrowed the original glittery, military-inspired looks – designed by Michael Bush and Dennis Tompkins – for the occasion. The late pop icon's Captain EO shirt, 'Scream' outfit, 'Thriller' jacket and 'Bad'-era breakaway suit were among the items in the show; they went up for auction last December 2nd in Beverly Hills, California, so Treacy felt inclined to create a millinery collection in their honor while he could.
Though Treacy's whimsical, over-the-top hats have long earned him love from quirky celebrity fans – including Nick Cave, Grace Jones and Gaga– this was his first full collection to show at Fashion Week in a decade. He's been sorely missed, it seems: his is the most talked-about London show so far.
"These clothes were designed to fill a stadium of 80,000 people, yet they are made like haute couture," Treacy remarked to the New York Times. He added later, "It's the most exciting show I have ever done. It is a gift to have the models wearing the clothes — Michael Jackson did better than anyone the sense of the extraordinary."
While Treacy fashioned his Spring 2013 hats with Michael's legacy in mind, he also wished to pay tribute to the late Alexander McQueen and Isabella Blow. On that level, this show felt like a bombastic, highly produced eulogy to three individualistic icons. Lady Gaga was the cultural ingredient to link them all: a muse and collaborator of McQueen's, an obvious admirer of Blow's (she even mimicked the trendsetter's lobster hat) and an acolyte of Michael's, she was the perfect choice to open Treacy's explosive return to the London Fashion Week circuit.
FashionTV was front and center at the show. The catwalk was a show full of glamour, fun, emotion and some of the most bedazzled accessories ever seen! The designer secured a variety of costumes from Michael's estate that served as the foundation for the show with looks such as his notorious black and red leather jackets, band jackets and his silver sparkling gloves.
Treacy's wild collections also consisted of original clothes that Michael wore throughout his world tours and music videos. Treacy's inspiration was derived from his vision on the future of Africa and its people happen to be wearing clothes by Michael Jackson.
Headgear creations and other accessories included gold organic spiral masks, a black cornucopia filled with gold roses, tall feather headdresses, metallic sunburst crowns and one model even sported a big gold sun that sat right on her front face.
Michael's talents, dancing and music were all dispersed onto the catwalk along with a gospel choir singing in back. It was an emotional evening for many as well as a celebration of fashion icons that have inspired the fashion industry for decades.
Source: Fashion TV, RollingStone & MJWN, with thanks to Paula
Leave a comment