Michael Immortalised In China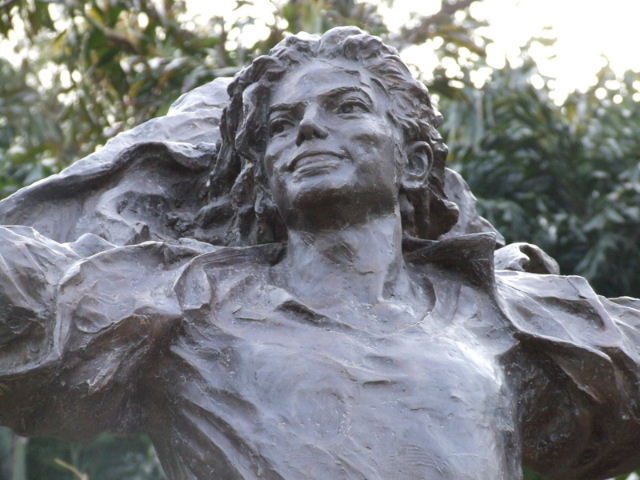 Kerry Hennigan from Australia has sent us a copy of her article on Michael's bronze statue in China, which she has kindly expanded especially for MJWN fans. Here is her story.
On 1st January, 2011 hundreds of Michael Jackson fans from mainland China, Hong Kong and Macau and a very small number of Westerners (myself included) attended the dedication of a life size bronze statue of the King of Pop, at Guangzhou Sculpture Park in the Baiyun District of Guangzhou City, China.
A bit of background on the location might be of interest. Guangzhou is the capital of Guangdong province, the largest city in southern China and the third largest city in China. Previously it was called Canton, being the name by which a lot of people in the Western world recognise it. The Guangzhou Sculpture Park is a high status park that contains sculptures of characters from Chinese history and folklore as well as those of national heroes and individuals of international renown.
The unveiling of the statue was timed to kick off at 11.00 a.m. on the 1st day of the first month of 2011 (i.e. 1.1.11 at 11.00 am) to signify that in the hearts of his Chinese fans, Michael Jackson still reigns supreme at the top of the charts as well as in their hearts. Organised by Michael's Chinese Fan Club and funded by donations from members and friends, the dedication ceremony was followed by a concert in an auditorium located adjacent to the statue.
There were performances of Michael's songs and classic dance routines and late in the afternoon an auction of MJ collectables and works of art.  The special guest was Michael's long-time friend Howard McCrary who sang and accompanied himself on an electric keyboard.  When he started a heartfelt rendition of 'Gone Too Soon' I knew I had to get some fresh air if I wasn't going to collapse in an emotional (and extremely tired) heap!
Outside there were still plenty of fans admiring and photographing the statue, but now I could see it up close and in its entirety rather than over the heads of a crowd.  How beautiful, and how much like Michael it was. The sculptor, Lu Zengkang, had certainly captured Michael's physical and spiritual essence under the guidance of the local MJ fans. Revealingly Lu told the local media that his intention had been "to show the benevolent, tolerant and peace loving inner world of the musician" (1) The base of the statue was surrounded by floral tributes, touching messages of love and devotion, photographs and drawings executed by fans as well as toys, including charity teddy bears from UNICEF which held a fundraising stall at the event.  There was even an Australian flag left by yours truly.
The base of the statue is inscribed with the dedication "Michael Jackson. All for Love" and also bears a message of gratitude from the Jackson family written by Randy Jackson on behalf of Michael's parents, siblings and children.
Being the only Australian at the event not only gave me a unique perspective on the day's proceedings but made me popular with the local photographers who wanted to take photos of/with me and/or little "MJ."  This was great fun, and with Michael as our common language, no interpreter was required.  It's worth pointing out that while my Hong Kong friends speak Cantonese (as well as English) the local Chinese fans predominantly speak Mandarin.
I returned to the auditorium just in time for the auction of MJ collectables and works of art, and the music video of his then-latest single 'Hold My Hand.'  Coming at the end of an emotional day, this had us spontaneously standing and holding hands.  I freely admit to shedding tears while being clung to and supported by my friends: Yoly, Ingrid, Queenie, Sylvia and so many others who had helped get me to this event from Hong Kong (complete with an overloaded suitcase!)
Another of the memories I cherish from the day is of a young family who happened to wander into this part of the park while most of the fans were watching the show in the auditorium. The father looked up at the newly minted statue and said "Ah. Michael" before they continued on their way. This brief observation made me truly appreciate how readily MJ is recognised in Asia, and his place in this high status park accepted as justly deserved.
Which, of course, it is.
Story (c) Kerry Hennigan 2011 and 2013
Photos (c) Kerry Hennigan 2011 All rights reserved.
The original version of this story was written across the border in Macau immediately following the unveiling event and published as a news item on the Megaheart4mj website, along with the accompanying photos. I have since expanded and personalised the article specifically for MJWorld.net.  Since I have seen some of my photos of the statue reproduced without my permission, I share them here with the expectation that my copyright will be treated with respect. A lot of time, energy and money went into the planning and execution of my visit to China, both by myself and the friends in HK who made it possible for me to attend. This was a very special event and the magnificent bronze statue of Michael is one I believe all his fans deserve to know about.  If you are ever travel to Guangzhou in mainland China, be sure to pay it a visit.
Leave a comment