1998 - 2013: Celebrating 15 Years
Saturday, 1st June 2013
Gongaware's Fourth Day Of Testimony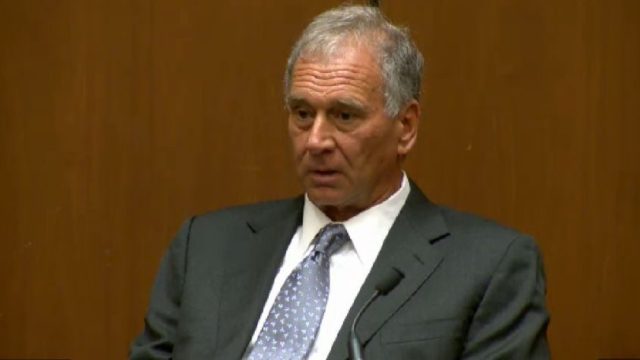 Paige said prior to today's testimony, AEG co-CEO Paul Gongaware was declared a hostile witness by the prosecution. AEG's lawyers on Friday asked Gongaware, listed as one of the producers of the 'This Is It' tour, more friendly questions.
He testified that he had no concerns about Michael's physical health or concern over his use of painkillers dating back to the 'HIStory' tour in the late 1990s.
AEG lead attorney Martin Putnam asked, "Did Mr. Jackson miss any shows during the 'HIStory' tour'"?
Gongaware replied, "He only missed one. That was when Princess Diana died. He heard about the accident, went to bed, woke up, found she passed away and it affected him deeply."
The AEG executive also testified that he saw no evidence that Michael was under the influence of drugs while prepping for the 'This Is It' tour.
He testified that the 'This Is It' concert series in London, which was to have earned Michael millions and served as a triumphant comeback was to be his final tour.
Gongaware said the English capital was chosen for the shows because of Michael's enormous popularity there. During a previous tour, Michael had sold out 10 shows at the 75,000-seat capacity Wembley Stadium, Gongaware testified. The plan originally was for 10 shows, but it was bumped up to 31 and then 50 because of the enormous ticket demand.
Gongaware said he would have liked Michael to have given even more performances at AEG's O2 Arena. He said that at one point Michael decided to do 31 because Prince had performed 21 concerts at O2.
Gongaware's recollection of events surrounding Michael's London news conference announcing his first tour in more than a decade give a different perspective than the worried emails his boss sent at that time. Gongaware said he was annoyed but not surprised when Michael showed up a couple hours late.
"Michael really doesn't like to do those things," Gongaware testified. "His schedules don't always run like clockwork."
The tour announcement took place at the O2. When Michael saw Gongaware backstage, "he came up to me and gave me a big hug and said, 'Make sure the teleprompter has big words. I don't have my glasses.'"
Gongaware said Michael did not smell of alcohol or appear drunk. "He was good," the AEG executive testified. "I think he was excited."
But emails from Randy Phillips, AEG Live's chief executive and president, tell a different version. "MJ is locked in his room drunk and despondent," Phillips wrote. "I [am] trying to sober him up.
"I screamed at him so loud the walls are shaking," Phillips told him. "He is an emotionally paralyzed mess riddled with self-loathing and doubt now that it is showtime."
In a previous interview with The Times, AEG attorney Marvin Putnam said Phillips had exaggerated in his emails and that Jackson's behaviour appeared to be a case of "nerves."
Michael Jackson lost $26 million on the first leg of the 'HIStory' tour in the mid-1990s and was in debt for sound, lighting and other expenses, according to testimony Friday in the wrongful death suit his family has filed.
Paul Gongaware, testified he was brought as tour executive for the 40 concerts that made up the second leg of the world tour.
"I had to go in and cut a lot of expenses," Gongaware said. "There was so much excess."
Gongaware said 'HIStory,' at the time considered one of the most ambitious tours ever, eventually broke even. He said Michael's performances were "sensational" and he saw no evidence he was using drugs. Gongaware did not start working for AEG until 2000, when the entertainment firm bought his company, Live Nation.
Gongaware, in his fourth day on the stand, also testified that in 2008, Michael, met in Century City with Colony Capital, a group of investors,  that held the mortgage on Jackson's Neverland ranch, which was threatened with foreclosure.
"Whoever held the note before … was about to foreclose on Neverland and Colony came in, I think at last-minute, and took on that obligation," Gongaware said.
He said Colony was trying to figure out a way to hold a Jackson exhibit or museum at the Las Vegas Hilton, which the firm owned. But nothing came of the discussions.
Brian Panish, the Jackson family's lead attorney, responded to Gongaware's testimony,
"He says a lot of things that are contrary to his testimony under oath in his deposition and in the court when I questioned him and now he has a completely different story. The jury will have to assess is he worthy of belief and at which points is he worthy of belief on."
A CBS reporter asked Panish how the Jackson family was holding up. "Mrs. Jackson is doing the best she can. She's a strong woman. She's a spiritual woman and she's here every day and listening to the testimony."
Panish says, at 21 days, he is about halfway through the presentation of his case. Then it will be AEG's turn to present theirs.
Gongaware will be back on the stand Monday for his fifth day of testimony.
Source: LA Times, CBS Los Angeles & MJWN
Share this article
Leave a comment