Gongaware's Third Day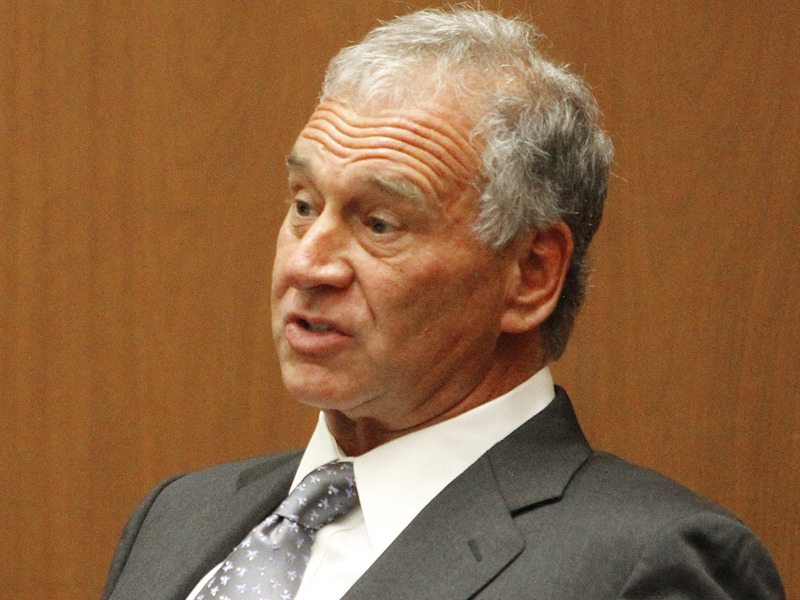 Testifying for the third day in trial of a negligence/wrongful death lawsuit against AEG Live over Michael Jackson's death, a company executive said today he was sad when he heard the singer had died in the midst of rehearsing for a tour and considered the pop star "a business associate."
Paul Gongaware, co-chief executive officer of Concerts West, a division of AEG Live, said he was at home in Hermosa Beach on June 25, 2009, when he was told of Jackson's death by AEG Live President and Chief Executive Officer Brandon Phillips.
Phillips had initially gone to Michael's rented Holmby Hills home when he heard there was a problem with the singer, then followed the ambulance as it took the 50-year-old entertainer to Ronald Reagan UCLA Medical Center, Gongaware said.
Asked by the Jackson family's attorney if he was "sad" when he received the news of Jackson's drug overdose death, Gongaware answered, "Very much so." Jackson was a "business associate," Gongaware testified. "We did business together; we were very friendly."
Gongaware said the revenue generated by the quick sell-outs of Jackson's 50 concert dates in London was in the tens of millions of dollars. He said the money was temporarily held by either the ticketing company or the O2 Arena, the host venue.
Gongaware said Jackson was as famous, or more so, than other artists who have performed in contract with AEG Live. Jackson would have reaped his share of the financial benefits from the 'This Is It' tour, Gongaware said.
"If he was willing to work, he would have done well," Gongaware said. Lawyers for 83-year-old Katherine Jackson, who filed the lawsuit in 2010 on behalf of herself and her late son's three children, allege that AEG Live hired Dr. Conrad Murray to care for the singer and failed to supervise him properly.
Two weeks after Michael Jackson's death, the performers on his 'This Is It' concert series were urged to avoid saying he looked "emaciated" before his overdose, a concert exec grudgingly testified Thursday.
Paul Gongaware made the request in an email shown to jurors during his testimony in the negligence lawsuit brought by Jackson's mom Katherine against his company AEG Live.
"We are ok with the band, singers and dancers doing interviews now. The only thing we ask is that they keep it positive and stress that MJ was active, engaged and not the emaciated person some want to paint him as being," the July 9, 2009, email to music coordinator JoAnn Tominaga read.
"You're telling them what not to say, aren't you sir?" Katherine's lawyer Brian Panish asked Gongaware.
"I'm asking them to keep it positive," Gongaware replied from the witness stand.
"And not say he was emaciated," Panish shot back.
"Yes …we did ask them to keep it positive," Gongaware said.
"So you were controlling the message as a producer of that documentary," Panish said, referring to the follow-up "This Is It" movie that included taped interviews.
"I don't think so," Gongaware replied.
Panish also grilled Gongaware over an email sent by his boss Randy Phillips a month later asking him to scrap footage of Michael that made him look ill.
"Make sure we take out the shots of MJ in the red leather jacket at the soundstage where the mini movies were being filmed. He looks way too think (sic) and skeletal," read the Aug. 9 email, previously mentioned during the trial.
Gongaware promised in a follow-up email to Phillips that he'd "have a look," but he testified Thursday that he never dumped any footage.
"We didn't keep anything out based on what Randy wrote," Gogaware told jurors.
Earlier Thursday, Gongaware confirmed he received an email from 'This Is It' tour production manager John Hougdahl "joking" that the skinny singer needed junk food and beer to gain some much-needed weight.
"He needs some burgers with a bunch of Wisconsin cheesehead bowlers…and a couple of brats and beers," read the June 15, 2009, email projected on a screen for jurors.
"Was he joking around about this situation?" Panish asked Gongaware, referring to Hougdahl.
"I think he was," Gongaware replied.
"Did you think that was funny?" Panish asked.
"I did," Gongaware admitted.
Gongaware said he once observed Michael looking "slow" and possibly intoxicated after a visit to his dermatologist but he didn't believe the singer had any serious health problems — even after Michael appeared weak and disoriented at a June 19 rehearsal.
"My observation of Michael Jackson was that he was healthy," Gongaware said. "They had a meeting to discuss (the June 19 incident), and he took a couple days off and he came back strong."
Source: New York Daily News, Patch.com & MJWN
Leave a comment