The House That Bruce Built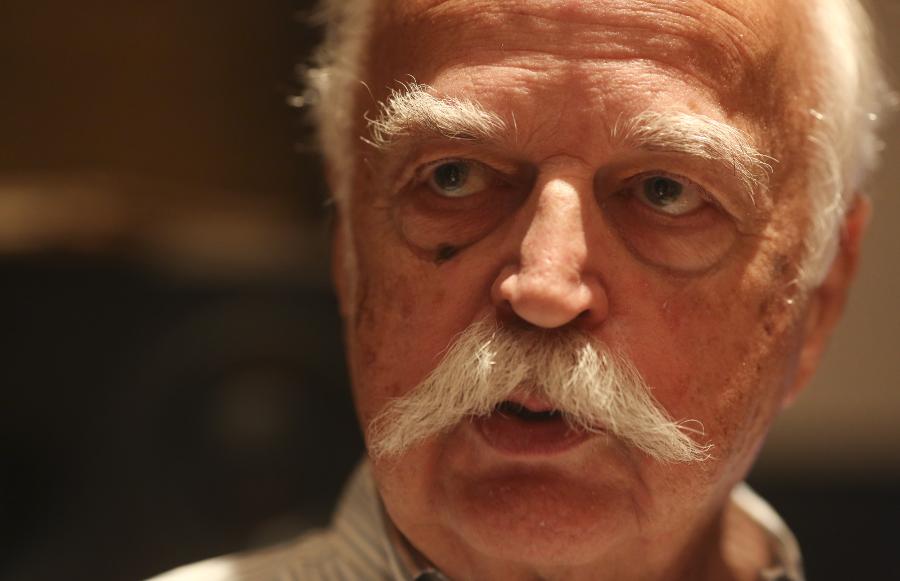 Bruce Swedien, who recorded most of Michael's hit songs and albums speaks to students of his work, his career and his regard for Michael's genius and abilities.
The 100 students in Creation Audio's Studio A listened intently, as the five-time Grammy winner told stories about working with Michael, Barbra Streisand and Miles Davis. Bruce also reflected on his homecoming to the studio he opened in 1953, which has recorded songs by the Trashmen ('Surfin' Bird,') Dave Dudley ('Six Days on the Road,') Hüsker Dü, Steve Miller Band, the Jets, Paula Abdul, Lorie Line, Connie Evingson and countless others.
"My wife helped glue up the egg cartons," he said, referring to the dozens of empty containers still visible in Studio B. "They were a superb and very cheap acoustical treatment."
On a recent trip to visit his sister-in-law in Minnesota, Swedien returned to Creation for the first time since he left for Chicago 55 years ago.
"I built those doors; if you look carefully at them, you'll see they're very solid, very thick," he said proudly, peering at the dark-pink 4-inch-thick doors to Studio A. "This place is unbelievable. My whole life started here."
Bruce (he's part Swedish, part French Canadian,) realized while taking piano lessons as a youngster in south Minneapolis, that he wasn't going to be a classical pianist — he preferred boogie woogie. At 10, he received a disc-recording machine from his father and became fascinated with the recording process.
After majoring in electrical engineering (and minoring in music) at the University of Minnesota, he opened 'Bruce Swedien Recording,' in an old movie theatre, at 26th Street and Nicollet Avenue S. Self-taught, he recorded such local acts as Six Fat Dutchmen and the Herb Pilhofer Octet and national jazz stars Herbie Mann and Art Blakey & the Jazz Messengers.
When a CBS Radio broadcaster travelled through the Dakotas on assignment, Swedien got hired as a sound engineer. That led him to Chicago, where he joined RCA Victor studios and recorded the Chicago Symphony and many jazz artists, including Duke Ellington and Stan Kenton.
His break came as engineer for Frankie Valli & the Four Seasons' smash single 'Big Girls Don't Cry' in 1962. But his best move in Chicago was getting to know jazz trumpeter-turned-producer, Quincy Jones.
"Quincy was the first man to pay me big-time royalties," Swedien said.
After moving to Los Angeles in 1975, Swedien was summoned by Jones to New York in '77 to engineer sessions for the movie 'The Wiz.' He met the film's star, Michael Jackson, and went on to engineer Michael's biggest albums.
"Michael was phenomenal," Swedien said. "He had such musical integrity. He'd love to go to Hit Factory [studio] in New York, and we'd go through the upper floor of that facility and look through pieces of plywood, all sorts of things, to make unusual percussion sounds. In one case, Michael sang through a mailing tube.
"He was one of only two artists in my entire career that I never used pitch correction on, because they didn't need it." (The other was Siedah Garrett, who dueted with Michael on 'I Just Can't Stop Loving You,' and co-wrote his No. 1 hit 'Man in the Mirror' with Glen Ballard.)
Bruce spent 19 years in Chicago, 17 in Los Angeles, then seven in Connecticut and the past seven in Ocala, Fla. Well, that's according to Bea, his ever-present wife of 60 years, who keeps track of the details and bakes the peanut-butter cookies Jones so liked, in the studio.
Bruce still records (he produced a single for Garrett in 2012,) and conducts master classes at his studio in Florida. He imparted some master-class wisdom for Twin Cities' students: "Take care of your ears." His secret for success as a producer and engineer? "A little bit of kindness and a little bit of psychology — and a little bit of pitch correction."
If you would like to read and enjoy the entire article on Bruce Swedien and his work, please visit here.
Source: startribune.com & MJWN
Leave a comment