1998 - 2013: Celebrating 15 Years
Monday, 22nd April 2013
Murray Appeals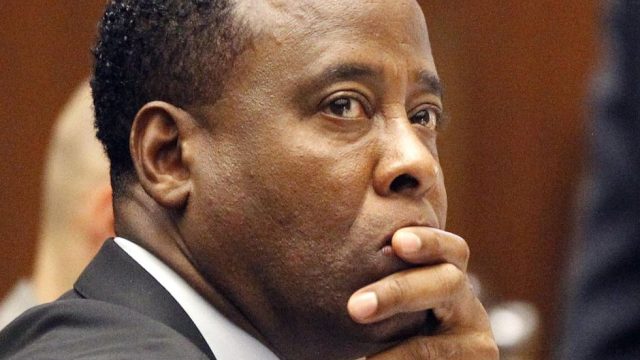 Associated Press has reported that Conrad Murray has appealed against his involuntary manslaughter conviction, and claims that there were multiple legal errors at his trial.
Valerie Wass, Murray's lawyer, argued in the 230-page appellate brief, that there was insufficient proof that Michael died of an overdose of the anesthetic propofol administered by Murray, despite the findings in Michael's autopsy report.
She also said that because of Michael's fame, his doctor was used as an example by the judge who sentenced him to the highest term for involuntary manslaughter. She suggested that even if his conviction is upheld, his four-year sentence should be reduced! Murray is eligible for release in October after serving half his sentence.
The appeal also reiterated a defense claim that Michael have administered the overdose to himself, (in spite of the fact that his fingerprints were not found on any of the pieces of equipment at the scene.)
Murray's two-month trial in 2011 drew wide media coverage, and Wass argued that the judge should have excluded TV cameras from the courtroom and granted a motion to sequester jurors to keep them insulated from publicity.
"The unprecedented fame of the alleged victim combined with the pervasiveness of modern media rendered it impossible for appellant to receive a fair trial with a non-sequestered jury in a case that was televised and streamed live around the world," the appeal said.
Superior Court Judge Michael Pastor had denied the defense motion, saying jurors who are sequestered often feel like prisoners and it interferes with their decision-making process. He instructed jurors daily to avoid publicity, and there was no indication that they violated the order.
The appeal also challenged the prosecution theory that Michael was hooked up to an IV drip of propofol and left alone in his bedroom by Murray.
It called that scenario "absurd, improbable and unbelievable," and provided an exhaustive reprise of scientific testimony about Michael's death. Murray told police he gave the singer an extremely small dose of propofol, a fact contradicted by scientists who reconstructed the events preceding the death. It was also contradicted by the autopsy report, which showed that every test performed by the coroner showed massive amounts of Propofol present.
Wass contended that one defense attorney, Michael Flanagan, failed to adequately cross-examine a scientist who testified to that issue. She said he and other lawyers also waited too long to ask for examination of residue in a propofol bottle found in Michael's room. Their motion was filed 11 days after conviction and was denied.
The appeal faulted the judge for refusing to admit as evidence some of Michael's previous medical records, his contract with concert promoter AEG, and his financial documents.
"The trial court abused its discretion by excluding all evidence of Jackson's financial condition, including lawsuits pending against him because such evidence was relevant to establish Jackson's state of mind on the day he died, which may have explained his conduct that morning and supported the defense theory of the case," the appeal said.
The attorney general's office, representing the prosecution, has 30 days to respond to the appeal. Wass then has another 20 days for her response.
She said the outcome of the appellate case could have some impact on pending medical board proceedings for Murray in Texas and California. The boards will decide whether to revoke Murray's license to practice medicine in the two states.
Meanwhile, Murray may be summoned to testify in a civil lawsuit filed against AEG by Michael's mother, Katherine. Jury selection in that case is currently underway. She claims the concert promoter was negligent in hiring Murray to care for the singer. He has however indicated that he will refuse to testify on the grounds of the Fifth Amendment, as he does not wish to incriminate himself before his appeal is heard.
Source: Associated Press, uk.eonline.com & MJWN
Share this article
Leave a comment