1998 - 2013: Celebrating 15 Years
Thursday, 4th April 2013
Michael Jackson Fans For Charity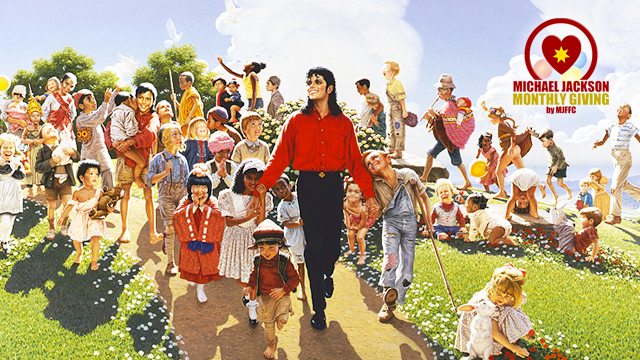 Michael Jackson Fans For Charity (MJFFC) is an organisation that was set up shortly after Michael's passing, and is currently in the process of registering with HMRC in the UK, for charitable recognition.
In September 2011, MJFFC started a new initiative originally called the '1 Million For Michael' Project. Since then it has been renamed the 'Michael Jackson Monthly Giving,' to avoid confusion with other projects of similar names, and so that the name was more relative to what the actual initiative involves. So far the project has amassed over 30 monthly donors from around the World, but is still looking for more donors.
The idea behind 'Michael Jackson Monthly Giving' is simple, getting as many Michael Jackson fans as possible to donate a small amount monthly to charity. This total then contributes to a larger monthly charity pot, which is given to the winner of three shortlisted registered charities every month, (losing charities carry over to the following months for further voting). The pot can also be topped up by fans wanting to just donate a one-off amount, or from other money raising initiatives that MJFFC runs, such as mobile phone recycling, raising money through easyfundraising.org.uk, Amazon sales commission, Zazzle store profits and much more. The winning charity is decided by a simple voting system, by the same fans that are donating monthly.
Steven Hodges, MJFFC's founder and MJ fan thinks it is an idea that can only grow and grow as more and more fans trust the system and the way it works,
"I wanted there to be a way fans can make a huge difference and have an outlet for their grief over their loss, and my own, whilst still keeping the expense to them as low as possible. Making sure the actions were as transparent as they possibly can be. To achieve this, we publish monthly reports for every donation and also publish our bank account transactions in real-time."
Steven also had the challenge of keeping on top of costs, so constantly strives to keep the costs of running the organisation as low as possible, which results in more money going to charity.
"Many fans out there donate to so many projects, but we wanted to have a more sustainable long-term fund running, that grew and grew over years, and which doesn't break their bank balance. Eventually, it will result in huge sums of money being able to be donated to important projects around the World. As an example, I sometimes imagine what it would be like to completely fund water projects or emergency surgery for a child, instantly! Michael was able to do this kind of thing when he was with us and he did just this kind of thing many times. If we could follow in his footsteps, but as a collective of his fans, then this would be very inspiring. I hope that someday many fans will be able to look at a children's orphanage or water well and say, 'I helped build that,' all thanks to Michael's LOVE and inspiration."
Currently the 30+ monthly donors are contributing from £2 – £20 per month and so-far MJFFC has been able to donate almost £1,500, spread across 17 different charities through the project. All in memory of Michael Jackson!
A unique aspect of the organisation is that 100% of the money donated goes to charity.
Steven had this model in mind right from the outset, when trying to work out how transaction charges and admin was going to be covered.
"We are in the process of registering with HMRC in the UK, so that we can be recognised as a charity for tax purposes. When we are recognised we will be able to allow qualifying UK tax payers the opportunity to add an extra 25% on top of their donation. This extra 25% will go towards transaction costs, admin and fundraising. When there are enough gift aid funds left after admin and fundraising, we will be able to top-up the monthly pot to charity. It is important to note that ALL of our staff and volunteers are unpaid and simply give as much time and own money as they can to the project; they believe in it to the highest degree, also donating monthly themselves. We are in it for the long run and know that in time a larger chunk of the 50 million plus Michael Jackson fans around the World, will also come to learn of the idea and choose to contribute monthly, ultimately leading to thousands of pounds making it to charities in memory of Michael Jackson, every month."
When the charity pot reached a milestone, Steven floated the idea of sponsoring a child with some of the money.
"When I put the idea of child sponsorship to the monthly donors they were very enthusiastic. Like with all of the donations, I try and make sure as much money as possible goes to the cause, so was able to find a child sponsorship charity that gives 100% of the money to the child's fund and none on admin and fundraising. I keep the donors updated with any developments on our child sponsorship and in December 2012, we sent our sponsored child our first inspirational gift of love, it obviously included a lot of Michael Jackson gifts, so we are sure that she liked it!"
More recently MJFFC has been raising money for the month of March 2013, where the charities shortlisted were those that were running a Syrian Child Refugee Crisis appeal and in which give the most money to their cause. With an extra top-up of £17.50 from MJFFC's Easy Fundraising service, it is looking to be a great pay-out for the Syrian children for the month of March, which will really make a difference to children's lives.
If you would like more information on the organisation, the donation system, or to start your donation please visit MJFFC or visit them on FaceBook for more details.
Source: MJFFC & MJWN
Share this article
Leave a comment