1998 - 2013: Celebrating 15 Years
Tuesday, 26th March 2013
Murray To Appeal Conviction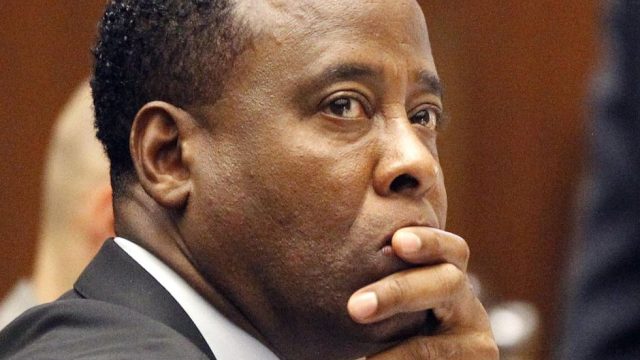 Dr. Conrad Murray is appealing his conviction for the involuntary manslaughter of Michael Jackson, and has defended his appellate lawyer from "a slew of disparaging remarks," just days before she files the appeal.
CNN has obtained sections of that 300-page appeal, including the defense argument that the trial judge erred by not allowing the testimony of Dr. Arnold Klein, a dermatologist the defense contended attended to Michael, during his last weeks.
Murray's appeal cites discrepancies regarding the prosecution's case during his trial, where he was found guilty of involuntary manslaughter.
The coroner ruled that Michael died from an overdose of the surgical anesthetic propofol in combination with sedatives on June 25, 2009. Murray told investigators he used propofol to induce sleep because Michael was suffering from insomnia.
Murray served as Michael's personal physician as the pop icon prepared for 50 shows that were to debut in London in July 2009, but his patient was fighting a battle for sleep between rehearsals.
Murray — during a phone call to CNN Saturday from the Los Angeles County jail where he's been held since he was sentenced to four years in prison — said he was "impelled to stand up for" attorney Valerie Wass, who has been involved in a personal dispute with Murray's trial lawyer Michael Flanagan.
Flanagan was helping Wass, who wrote the appeal, until the two lawyers were involved in a jailhouse argument last January. Flanagan dropped Murray as a client after the incident, but the appeals court later ordered him to respond to requests from Wass for case files, which she said he had withheld.
Murray, who witnessed the January incident between his attorneys, issued a strong statement of support for Wass in his call from jail.
"In recent weeks, I became keenly aware that a slew of disparaging remarks and personal information about my appellate attorney, Valerie Wass, were unjustly released to the media and the public," Murray said.  "Because of this injustice, I am impelled to stand up for this woman, for whom I have the utmost respect and confidence."
Wass completed work on the appeal even though "with the blink of an eye, all of her promised assistance vanished; they abandoned ship," Murray said.
Responding to CNN on Sunday, Flanagan said he had no comment.
"Although she needed help, she did not quit, did not jump ship, nor did she succumb to pressure while others abdicated their responsibilities," he said.   "She held steadfastly to her professional and moral conduct, which was bolstered by her amazing mettle of mind and spirit."
Murray said Wass "stood up for me amidst a most arduous and challenging series of obstacles, and whose loyalty remains indisputable.  It is my belief that she took a personal hit for me, and I want to  let her know that I'll forever be grateful."
Although Murray could be freed in about seven months, he is seeking to clear his name and get his medical license back by having his conviction overturned on appeal.
The prosecution will have a chance to respond to Murray's arguments before the California appeals court makes a decision.
A wrongful death lawsuit filed by Michael's three children and his mother is set for trial next month. The family accuses concert promoter AEG Live of liability in his death by hiring and supervising the doctor, who was convicted of involuntary manslaughter in November 2011.
Source: CNN & MJWN
Share this article
Leave a comment