11th February
On this day – 11th – 12th February 1992
Michael is welcomed by 100,000 people when he arrives in Libreville in Gabon. President Omar Bongo presents him with a Medal of Honour at the Ambassador's Hall in the Presidential Palace.
The town of Oyen welcomes Michael with children carrying banners 'Welcome Home Michael'. In the West African gold mining village of Krindjabo on the Ivory Coast, populated by the Agni tribe, Michael is crowned 'King of Sani' by tribal chief Amon N'Djafolk.
In Dar-Es-Salaam, Michael is the guest of President Ali Hassan Mwinyi and Tanzania issues a special postage stamp bearing Michael's image.
Michael travels 30,000 miles in eleven days, but his excursions to hospitals, orphanages, schools, churches and institutions for mentally challenged children receive little positive coverage by the media.
While Michael tours the African nations, he becomes the centre of a negative media campaign. Robert E. Johnson, publisher of 'Ebony' and 'Jet' magazines, one of the 26 specially invited guests accompanying him, reports as follows on the malicious Michael-bashing by the media:
– The trip was a 'public relations disaster for Michael.' Truth: It was a triumph in which he drew more spectators in Gabon than Nelson Mandela and more in the Ivory Coast than the Pope.
– The singer cut short an African tour after a stopover generated the wrong kind of excitement. Truth: The sponsors wanted him to extend his tour to meet the demand for his appearances everywhere.
– He held his hand to his nose because the African nations smelled. Truth: He sometimes touches his nose, an old nervous habit.
– He collapsed from the heat and he went to London for a medical appointment. Truth: He was never bothered by the heat. His personal physician, Dr. R. Chalmers, accompanied Michael on the trip.
– He refused to shake hands with Africans. Truth: He shook the hands of hundreds of people, hugged and kissed children in hospitals and institutions for the mentally challenged.
– He is 'neither Black nor White' and is not a good role model for children: Truth: After Michael read a prayer in the Basilica of Our Lady of Peace on the Ivory Coast, a 9 year-old boy exclaimed: "Michael is love, love, love! I want to be like him."
Watch some footage of Michael in Africa here:
The Visual Documentary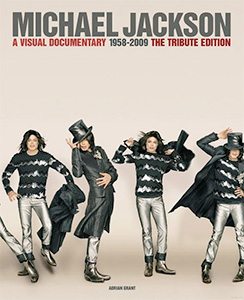 This article is taken from The Visual Documentary Facebook page, which publishes facts from one of the most comprehensive books on the King of Pop and the only book to be authorised by Michael himself.
It's written by the founder of MJWN and friend of Michael's, Adrian Grant and we thank him for helping us remember the special moments in Michael's life. We encourage everyone to follow The Visual Documentary on Facebook.
Latest photos from the Visual Documentary
[fbalbum url=https://www.facebook.com/media/set/?set=a.160580144058909.33403.158576907592566 limit=21]